Today,we are celebrating the 50th Anniversary of the all time popular Cartoon series, based on Stone age period- '
The Flinstones
'
The Flintstones
is an animated American television sitcom that ran from September 30, 1960 to April 1, 1966 on ABC.
Personally,The Flintstones used to be our family favourite cartoon watched together at lunch.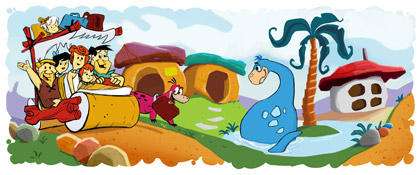 Sometimes,
Papaji
used to joke, one day we would surely get a luxurious car,if not that,at least a 'FLINSTONE TYPE' car.Whenever our Van ran out of gas, we used to joke, Papaji..lets drive like The Flinstones's Car...lol. Miss the quality family time we enjoyed watching The Flinstones :(
However the cartoon is very apt in todays culture. The irony of this cartoon show is that the more we are getting sophisticated..the more we are becoming like the Flinstones...arent we?? Like mrs Welma used to knit right from the sheep- soon we might be doing something similar to getting processed wool straight from the sheep right in our living room!! wonder why such good truly thought provoking cartoons are not broadcast these days.Hats off to dear
Hanna Barbera for such marvelous creation.
Watch some Flinstones Cartoon videos:
The Flintstones Theme Song
"The Flintstones" Closing
Flintstones Cigarette Commercial
The Flintstones-A Haunted House Is Not A home Part 2
Flintstones episode in a minute
Flinstones Rocks!!