♥Wear light shades /white colored clothes instead of dark or black on Monday. You'll feel really refreshed & cool all day long.
♥Be cheerf

ul till 10'o clock in the morning. If you can mange to be happy till 10 , chances are you will remain in a pleasant mood throughout the day!

♥Intimate your HR if you are going to be late on Monday(as alwys!).
♥Avoid washing hair on Monday, Wash it on Sundays instead.
♥Appreciate. Give Thanks.Wish. Greet everyone. Even the office boys. Be the 1st one to say "hello".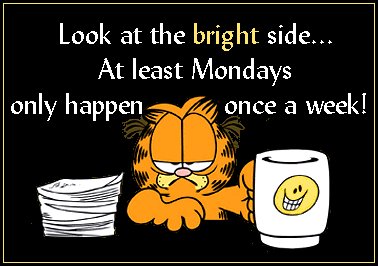 These are some of self tried & tested tips to drive away Monday Morning blues. Hope they will stand you in good stead too!